Speech Bubble Placement
Speech Bubble Placement Overview
Simple Donacode and a handy tool called the Bubble Helper allow the director to control the size and position of speech bubbles.
Helpful Videos

Speech Bubble Placement Syntax:
@speechbubble is X Y to % with tail_POSITION_DIRECTION





@speechbubble reset
Note: The POSITION can be "top" or "bottom"; the DIRECTION is either "left" or "right"
Exmaple: tail_top_left, tail_top_right, tail_bottom_left or tail_bottom_right
IMPORTANT
You must always reset the speech bubble after each spot placement! If you don't, every future speech bubble will show up in the previously denoted position.

There will rarely be a situation where you'd need to alter the default speech bubble size (%). When doing speech bubble work, the only things you have to change are the coordinates of the speech bubble on the screen and position/direction of the speech bubble's tail.

It's great to get into the habit of using speech bubble tails that face downward ("bottom") for lines of dialogue delivered by characters who are standing offscreen.

Let's look at a few examples...
Open the story "Advanced Directing Guide"
Then click button "Background Actors Overview"
To follow along in the script, open:
http://episodeinteractive.com/write/story/Advanced_Directing_Examples/1
Then jump to "label fourone" using CTRL + F or CMD + F after tapping into the script editor. You can view the examples by tapping at the line you want to view, and pressing "Preview" button in the upper right hand corner to view the differences.

Example A: A basic conversation between two characters shows ideal bubble placement.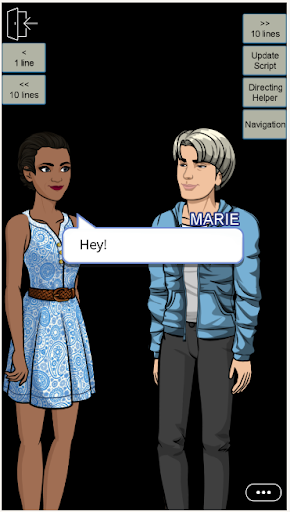 Example B: A conversation between two characters where the bubble placement is on top of characters' faces, too large, too small, positioned too far away from the character, and has the tail facing the wrong way, respectively.




Example C: A line of dialogue delivered by a character standing off-screen. The speech bubble's tail faces down ("bottom") and shows ideal positioning on the screen for letting the reader know this is off-screen dialogue.