Creating New Outfits
Creating unique outfits for your characters are important to express their personalities and appropriate themes or settings.
To get you started, go to your story page of the story you want to add an outfit to.
Once there, tap on "Outfits".


You'll be dropped into the outfit creator. Here you can edit old outfits or create new ones!
How does it work?
First things first, you have to create an outfit. Tap "New Outfit" and give it a name. "Script Name" is the name you'll use when you're writing your script (more on how change outfits below). Make the name distinguishable, but descriptive.
Once you have the outfit named, scroll down to see the clothing options.

The clothing will be sorted by the "Newest First" by default. To preview outfits, just tap on the article you want to put on, and scroll back up.
Tapping on the clothing pieces under "Clothes Used" will remove them from the outfit.
Now, say you didn't want a female outfit, but a male outfit. Go ahead and remove all the clothing before saving, and tap on "Male" filter option, then select what piece you want in the outfit.
Once you save the outfit, you'll have the option to delete it.
Creative Note
When making outfits, you have the option above the outfit preview, of viewing the outfit on whichever character you've made. This is super useful when trying to match complimenting outfits to skin tones and hair or eye colors!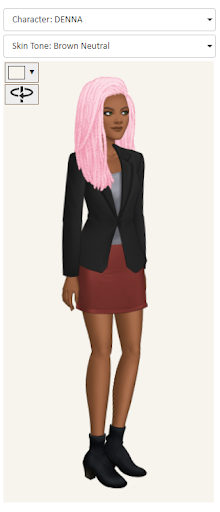 Outfit Changes
Once you've created the outfits needed for the scene or chapter, go to your script editor by tapping on your current chapter on your story page.
Generally, characters should change outfits off-screen; otherwise, they will appear to "pop" into the new outfit. You can see an example of this in the Example Script: Basic Direction. Hit "preview" in the upper right hand corner to view the script in the Web Previewer.
Outfit Change Syntax:
@CHARACTER changes into OUTFIT
Examples:
@ANGIE changes into Classy





@HAYES changes into DirtyM6
Here's another example from the characters above:
INT. BAR - DAY





@zoom reset




@DENNA changes into 

Chapter1DateOutfit




@NELLA changes into 

NELLA_casual




@pause for a beat




@DENNA enters from left to screen left
A common practice for characters changing on screen is to use an animation loop that will suggest changing.
Example:
@DENNA walks to spot 0.980 56 170 in 2




@DENNA is 

dustoff_neutral_loop




@DENNA changes into 

DENNA_sleepwear
Altogether, it can also look something like this:
@cut to zone 1 AND zoom on 320 184 to 178% in 0




&DENNA faces left




&DENNA is 

tinker_kneel_neutral_loop_rear




@DENNA is 

standup_neutral




@zoom reset




@DENNA walks to spot 0.881 154 208





    |    DENNA (

dustoff_neutral_loop

)





    Got it!





@DENNA changes into 

DENNA_interview




@zoom on 150 350 to 224% in 0




@DENNA starts 

idle_happy_loop
IMPORTANT
Each of your stories will have their own collection of outfits that you make from our catalog. The name of the outfit that you type into the script (i.e. "Classy" or "Chapter1DateOutfit" above) will have to be the exact names that you gave them in the Outfit portal.