Starting in the Fall of 2020 we began testing some ways to provide more opportunities for authors to tell stories on Episode full-time. One of the options we tested is Early Access, which allows creators to give their readers the option of using gems to read a newly released episode immediately, or releasing the episode for free after 7 days.
When you publish a new episode, the option to publish any NEW episode(s) with Early Access will appear as a toggle in the Publishing pop-up. If you enable Early Access for a new episode, readers will see that episode locked for 7 days after it's been published. Readers can then choose to use 8 gems to read the episode immediately (with no ads and without using a pass) or to wait for 7 days to read it.
In the Episodes table, the Early Access status of each episode along with the day that Early Access period ends is shown in the Status column.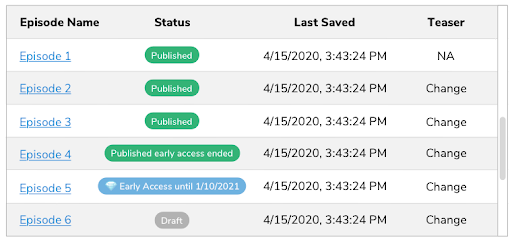 Important things to note about Early Access:
Early Access only applies to episodes being published for the first time and cannot be applied to previously published episodes.

Once turned on for an episode, Early Access cannot be turned off until after the scheduled wait period has passed.

If you publish more than one episode at a time with Early Access enabled within a 7-day window, the wait times will stack for readers. See our examples below to see how this might impact you if you plan to do this.

If Episode 6 had been published with Early Access at the same time as Episode 5, the total Early Access period for Episode 6 would be 14 days, since that's 7 additional days on the 7-day Early Access for Episode 5.

If Episode 6 were to be published 2 days before Early Access ended for Episode 5, the total Early access period would be 9 days, since that's 7 additional days on the 2-day remaining Early Access period for Episode 5.
Early Access counts towards the number of gems used by players in a story per read. It also counts towards gem reads if you have yet to unlock Writer Payments. If you are in the Writer Payments program gems used on Early Access will contribute to your Gem Bonus Payment.
As always, using any gem feature is entirely optional and is completely at the discretion of the authors themselves. Enabling Early Access on your stories is not a mandatory requirement for joining the Writer's Payment program, or to have your story rank highly in the trending section.